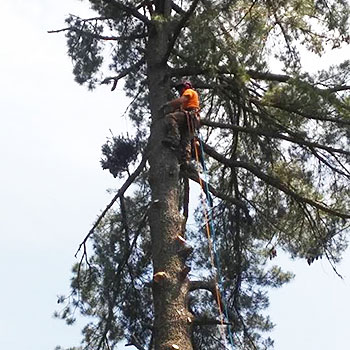 Do your shrubs look overgrown? Is your tree growing in a strange shape?
Even worse, is it weighed down by large, dead branches?
If any of this describes the large plant life on your property, you might need professional tree trimming and pruning. Lakeview Tree Company can help, no matter the size of the job!
Trees, like any other living thing, will respond to its environment. When a tree continues to grow without any restrictions (like natural barriers or trimming), its "posture" will be affected. It will grow asymmetrically, potentially causing safety issues for your home or your neighbor's home. Overgrowth not only looks unattractive—it's a liability for your property!
Trimming & pruning your shrubs or trees will give your property a clean look that helps your plants grow healthier and stronger. If you want your tree to grow in a particular direction, expert trimming will allow us to dictate how your tree develops. We can determine the best decisions for your trees and shrubbery, taking into account the specific species of your plants, their strengths and weaknesses, and the time of year.
New Tree Planting
You can trust our team to determine the best tree for your yard or transplant existing trees to keep.